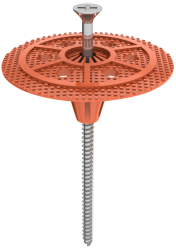 BRAVOLL® TIT 60/5-20
DESCRIPTION
Plastic anchor for the mechanical fixing of rigid expanded polystyrene (EPS) and mineral wool (MW) boards for external wall insulation systems (ETICS) into wooden and steel substrates.
Insulation washer with recess for reduced thermal transmission.
The product can be supplied as a complete anchor together with Torx head screws for wood and thin gauge steel sheets (EURO TS15 with hardened tip) or for steel (EURO VR15 with self-drilling head).
Both types of screws are treated against corrosion (15 Kesternich cycles).
SUITABLE FOR
Base materials: wood and metal sheets (max. 2 x 1.25 mm)
FEATURES
EURO VR15 and TS15 screws can be installed into most base materials without any pre-drilling
Quick and easy setting
Limited thermal transmission
Special plate surface for optimum render adhesion
TECHNICAL DATA
Approval from TZUS: 090-006720
Base materials for EURO TS15 screws: Wood, chipboard panels, thin gauge steel sheets (up to 0.88mm)
Base materials for EURO VR15 screws: Wood, chipboard panels, thin gauge steel sheets (up to 2 x 1.25mm)
Screw diameter: 4.8 mm
Washer diameter: 60 mm
Minimum embedment: 20-40 mm
| | | | | |
| --- | --- | --- | --- | --- |
| BRAVOLL® Product type | Code | Washer diameter dp mm | Pcs per carton | Pcs per pallet |
| TIT 60/5-20 | 11626 | 60 | 400 | 33,600 |
| | | | | | | |
| --- | --- | --- | --- | --- | --- | --- |
| TS15 | Code | Screw length (mm) | Anchor length La (mm) | Embedment Hnom (mm) | Ins. thickness hd (mm) | Pcs per box |
| 4.8x60 | 48060 | 60 | 70 | 20-40 | 30-50 | 200 |
| 4.8x80 | 48080 | 80 | 90 | 20-40 | 50-70 | 200 |
| 4.8x100 | 48100 | 100 | 110 | 20-40 | 70-90 | 200 |
| 4.8x120 | 48120 | 120 | 130 | 20-40 | 90-110 | 200 |
| 4.8x140 | 48140 | 140 | 150 | 20-40 | 110-130 | 200 |
| 4.8x160 | 48160 | 160 | 170 | 20-40 | 130-150 | 500 |
| 4.8x180 | 48180 | 180 | 190 | 20-40 | 150-170 | 500 |
| 4.8x200 | 48200 | 200 | 210 | 20-40 | 170-190 | 500 |
| | | | | | | |
| --- | --- | --- | --- | --- | --- | --- |
| VR15 | Code | Screw length (mm) | Anchor La (mm) | EmbedmentHnom (mm) | Ins. thickness hd (mm) | Pcs per box |
| 4.8x60 | 49060 | 60 | 70 | 20-40 | 30-50 | 1000 |
| 4.8x80 | 49080 | 80 | 90 | 20-40 | 50-70 | 1000 |
| 4.8x100 | 49100 | 100 | 110 | 20-40 | 70-90 | 500 |
| 4.8x120 | 49120 | 120 | 130 | 20-40 | 90-110 | 500 |
| 4.8x140 | 49140 | 140 | 150 | 20-40 | 110-130 | 500 |