INSTALLATION TIT 60/5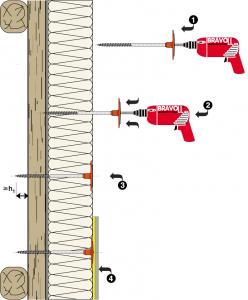 Place the washer and the screw onto a screwdriver with a Torx bit
Pierce the insulation material with the screw down to the base material
The installation should be performed with an electric screwdriver (maximum 350 rpm, ideally with electronic regulator) and the Torx-screw-cap.
Stop screwing (maximum 350 rpm) when the washer becomes flush or between 0 and 2 mm below the surface of the insulation material.
Within 6 weeks the anchors should be covered by the other ETICS components (for UV protection).
Installation must be done at a temperature > 0° C.